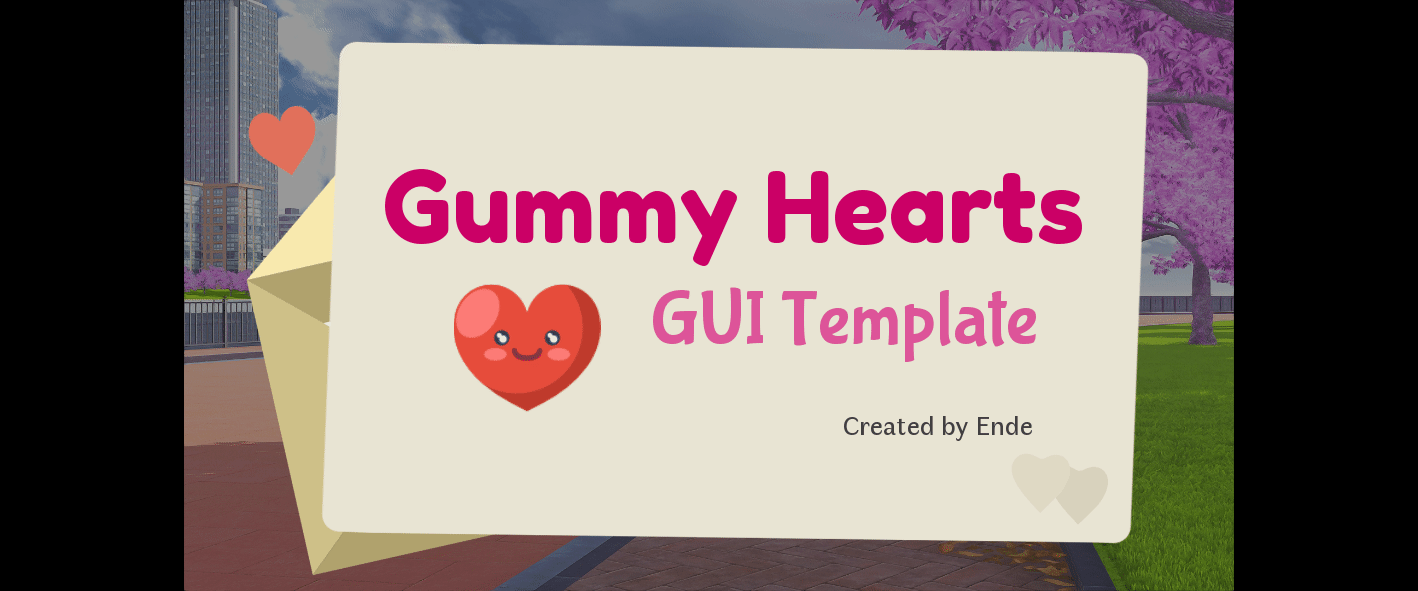 Gummy Hearts (GUI Template)
A downloadable asset pack
Details
Made with Ren'Py 7.1.1+
15 interactive screens
Designed for 1920x1080 display (1280x720 coming soon!)
For Free or Commercial use (no credit needed)
Interactive Screens List
| | | |
| --- | --- | --- |
| No. | Screen | Content |
| 1 | Directory | Main Menu | Game Menu |
| 2 | Log | Dialogue/Monologue history |
| 3 | Save | 9 save slot pages, 6 save slots per page |
| 4 | Load | Loadable 6 automatic save slots , 9 save slots pages |
| 5 | Settings | Display | Text | Audio |
| 6 | Extras | BG Gallery | CG Gallery | Music Room |
| 7 | BG Gallery | Unlockable BGs |
| 8 | CG Gallery | Unlockable CGs |
| 9 | Music Room | Unlockable music |
| 10 | Credits | About/Credits page |
| 11 | Help | Keyboard Help | Mouse Help | Gamepad Help |
| 12 | Keyboard Help | Controls for the keyboard |
| 13 | Mouse Help | Controls for the mouse |
| 14 | Gamepad Help | Controls for the gamepad |
| 15 | Quick Menu | Back | Skip | Auto | Log | Save | Load | Menu |
If you would like me to handle installation on a working game or want additional screens (such as a stats page), feel free to commission me!

Warning
By purchasing this product, you accept the risks and limitations that come with using pre-made screens.
Notes
Only certain files have been altered, and any unchanged files will remain in their respective locations to avoid errors.
All lines of code, whether or not they apply to the template, will remain in the program. Unused screens from the original screens.rpy will be commented out (#).
Mobile Variants and assets for NVL-Mode have not been changed. Alter accordingly if necessary.
Does not include Sound Effects, Replay Mode, or Quick Save.
How to Install
Make a copy (backup) of your original game.
Extract GummyHearts.zip.
Copy the unzipped files (27) and paste them into your game folder.
Replace all files (Note: Any changes made to files sharing the same name will be overwritten and lost).
Change has_bg_gallery, has_cg_gallery, and has_music_room variables (True/False) to suit your game. Located in options.rpy.
Copy any information from your original game's options.rpy into the new options.rpy (Important: config.name, config.build_name and config.save_directory).
Copy and paste any existing art assets you have into their image folders (default thumbnail size: 350x197). Image paths in your script need to be changed ("bg/[...]" or "cg/[...]"). Change file names or code if necessary.
Copy and paste any existing music files you have into the music folder. Music paths in your script need to be changed ("music/[...]"). Change file names or code if necessary.
Force Recompile and Launch Project.
Credits
GUI Template created by Ende
Quality Assurance by Renkka
Sample Art by Uncle Mugen
Sample Music by Patrick de Arteaga
Original icons made by Smashicons from Flaticon

Purchase
In order to download this asset pack you must purchase it at or above the minimum price of $9.99 USD. You will get access to the following files:
GummyHearts(1920x1080).zip
47 MB